Growing Your Relationships 1 – You and Your Significant Partner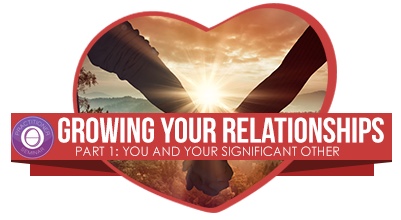 Imagine if you had the tools to shift your own energy and create a relationship that encompasses mutual love, respect, understanding and support.
Picture your life if you could learn how to work through challenges in your relationships, without needing your partner or others around you to trigger your old baggage!
Whether you are already in a relationship, or still looking for the right partner, you can learn how to uncover the subconscious blocks and patterns that are preventing you from having a deep, soulmate connection with a significant other, grow and develop your own energy to shift the old patterns that just haven't been working for you!
If you are ready for a more harmonious, loving, supportive and high vibrational relationship, in which both of you are empowered, both grow and evolve as a couple as well as individuals, then read on!
Our soulmates know us so well on a spiritual level, that you really have to learn how to love yourself to make them work.
That is what the Growing your Relationship seminar is all about.
This seminar is designed to take you to the next step in your relationship, in your evolution to learn how to become a virtual unit.
This seminar is not just for couples, but for anyone who wants to develop a relationship, an intimate relationship, a partnership to reach the highest potential.
Growing your Relationships will help you to:
build a strong partnership

build a strong foundation

keep your relationship fresh and new

help your relationship work for you

learn how to really love another person and how to let them love you back, while removing blocks and obstacles handed down to us from our ancestors.
When we truly love ourselves, we get the next level of enlightenment.
Would you like to know how to live your life without fearing love?
Without guilt in relationships? To be loved by your companion?
Join the Growing your Relationships Seminar to learn.
This seminar is for you if you:
single and looking for the right partner

already in a relationship and want to deepen the love, connection and understanding within the relationship

would like more harmony, understanding and respect in a relationship

want to re-ignite the passion and excitement in your relationship

take your relationship to the next step without the fear of commitment

want to be able to open your heart to feel safe to let love in
There are many topics covered in this seminar, and very deep digging to uncover the deep subconscious blocks and patterns that prevent you from having a beautiful soulmate connection with someone that you love, and you can allow to love you back completely.
This seminar sets the tone for the type of relationship that you want.
It is a powerful seminar regardless of if you are already in a relationship, or still looking for the perfect one.
It will help you to set the tone and precedence of your ideal relationship.
Here are just some of the topics that are covered in this powerful seminar, which could be affecting your relationship:
issues of trust and how to overcome them
the fight for dominance in a relationship
how money and relationships affect each other
creating a healthy energy field around the couple, to bring in more love, harmony and abundance to both partners
how the in-laws can impact your relationship and how to overcome the challenges
children and their effect on a relationship
sickness and the toll it can take
teamwork and working through problems together
Seminar Information
Duration: 2 Days
Prerequisites: Basic DNA, Advanced DNA, Dig Deeper
Includes: Manual and refreshments
By the end of the seminar, students will be certified Growing Your Relationships Part 1 ThetaHealing® Practitioners and can use these skills for personal development or as a practitioner, if they choose to.
Investment
Total Investment: £395
Deposit (non-refundable, non-transferable): £100
Remainder due 14 days before start of course
Dates
23rd -24th March 2019, London
What Others Are Saying About this Course With Raspreet
"Incredibly powerful course, if you're in a relationship or single! Biggest thing I've learned is about loving myself, who I am, what I want out of a relationship, so I know what I want, so when I meet someone, I am in the right space and so are they for the perfect union.
This is a very powerful and deep course and I think EVERYONE should do it!"
"Ras is an amazing and incredible teacher…very calm, extremely intuitive, she understands you and gets what you need out of your healing…she brings beauty and peace with her teaching and I can't wait to do more courses with her!" – T.Benson, London

"I just took the Growing your relationship 1 with Ras and I feel very good and uplifted.
The energy feels amazing and as result of taking this course, I have now a better understanding of myself and my relationship with my partner.
I have taken another Theta course few months ago with Ras and I love being at her classes because she is a great teacher, she is very passionate about her work and you can sense this during her courses, she is very compassionate and you will feel at ease straight away around her whether you are taking up any of her courses or whether you decide to go ahead with a healing session.
I had few healing sessions at the courses and a private one and I really loved it.
Being a Theta Healing Practitioner myself, Ras doesn't hold any judgement during the session, she holds you in a very loving and compassionate way and gets very quickly to the bottom of the issue/block which is preventing you to move forward.
She is extremely intuitive and able to identify any blocks quickly. Having worked with Ras, I know can count on her emotional and mental support if needed, it happened during the course and also in the past where I wasn't sure about something and I got in touch with her and she was always available to help where she could.
Having worked with Ras, I feel more empowered and I know it is possible to have a more balanced and harmonious relationship with myself and my partner." G.Tramonti, London